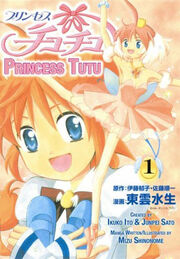 The manga adaptation of the Princess Tutu was written by Mizuo Shinonome. It was published in Japan by Akita Shoten in the shōnen manga magazine Champion Red and collected in two tankōbon volumes in 2003. It was released in North America by ADV Manga in late 2004 and early 2005.
The entire story of the manga is different from that of the anime with absent characters, too. Focusing more on the ballet side of things rather than the fairy tale elements that appeared in the anime, the manga brings with it a fresh look at the setting of Princess Tutu.
If you are a true fan of the show and its original story, this manga is probably not for you. The manga artist even admitted herself that she created the manga without even watching the anime, or even knowing much of the story at all. No bias intended, but it is truly a mystery how this manga was approved to be published under the the relation and name of Princess Tutu.
We could have listed all the differences between the manga and anime but there are so many that it would serve no point and result in telling the entire story. So here are the more important and noticeable changes in the manga:
The manga is left open ended in terms of romance, with both Ahiru and Rue still competing for Mytho's love.
Both Ahiru and Rue are given last names: Ahiru Arima and Rue Kuroha
The characters are also given ages, which are actually quite younger than the official anime show artists intended to portray. The official anime leaves the ages more open to interpretation, giving occasional clues they they are in the mid-late teen range.
Characters absent: The Raven, Drosselmeyer, Uzura, Autor.
Edel takes on the most drastic change in the manga. She is human and the owner of a ballet shop. Her appearance is changed (she wears very revealing clothing), and in the second volume, she is revealed to be a villain.
List of Chapters
===
№
Original
English
Release date
ISBN
Release date
ISBN

1

 
 
 
 

2

 
 
 
 

Guest Room: Junichi Sato
Guest Room:

Naoki Yanagi

Extra Comic